How paid marketing can enable strong presence of brands in cut-throat competition?
Digital marketing tools are the new black of the current era. PPC or Pay Per Click for example gives faster results as compared to SEO. Digitalisation has changed the way brands are competing these days. PPC especially is the best asset one can have in the fast-paced world of digital marketing. There are a number of channels to spread the word these days and audiences have different choices. You need to capture all these channels to reach people to the maximum. If done right, PPC can prove to be the best tool to stand out in the world of cut-throat competition.
Among the many branches of digital marketing, social media marketing, influencer marketing, and Pay Per Click (PPC) if done right can make a lasting impression on your brand, products, and services. Let us understand more about these branches and how can you make good business, networking, and awareness among your audience via these methods:
Social Media Marketing
Social media platforms are the fastest-growing tool to spread information globally. Provided you have an exciting page with regular posts, updates, live interactions, and videos. Social media marketing is done to achieve this target of reaching millions. But it is not that easy. It is like finding a needle in a haystack to get in touch with the appropriate page or influencer that can help your brand be on the top. 
You literally have seconds to catch people's attention on these platforms. People swipe the entire day and barely give 2-5 seconds to a post. Do you have what it takes to capture these 2-5 seconds? Is your content that creative? Can it touch your audience in such a short span of time? It takes an entire staff and a plethora of planning to achieve the goal and stand out in the crowd. And when we talk about "crowd," you surely cannot figure out how many brands are trying day and night to grab the maximum reach. 
Brand awareness is an important area to master for any firm. You need a specialized agency that is well experienced in the industry, has good contacts with the digital as well as print media, has skilled staff, and covers various channels to promote your brand, products, and services. The best social media agency in India would certainly have the right tools, tactics, and people to get the work done. Running campaigns, contacting the right influencers, and creating videos that can get maximum clicks, likes, shares and comments are some of their expertise. There are departments for everything here. Be it content, SEO, graphic design, social media management, public relations, influencer marketing, or crisis communication, the best social media agency in Delhi will have a team for all your requirements. 
Social media marketing is an effective marketing tool to spread the word about your company, products, and services in the quickest manner. Advertising on social media is a better way to expand brand visibility. Ads on Facebook, Twitter, and Instagram are tailored to the user's interests. Paid social media advertising is a big part of social media marketing.  Making social media ads interactive can increase people's interest in watching them rather than skipping after 5 seconds. Posts and products can be boosted in this manner. 
Pay Per Click (PPC)
Another fabulous model of digital advertising. Here you pay the advertiser every time one of your ads is clicked. In layman's language, you pay for the targeted visits to your website or page. PPC if done right can turn into handsome profits in your favour. For example, if you pay USD 5 per click and that click gets your sale worth USD 5000 it's a lottery! Also, then you can afford to pay how much ever the PPC cost is. Paid marketing can do wonders if done correctly. Though the concept has caught word recently, people have been using such tactics for a long time to get noticed among their audience. 
PPC marketing includes advertisements in various forms. It can have texts, images, videos, or a combination of everything. These are designed in a creative and catchy manner to appear on websites and social media platforms. While paid marketing or PPC advertising can vary from platform to platform, in general below is the procedure that is to be followed: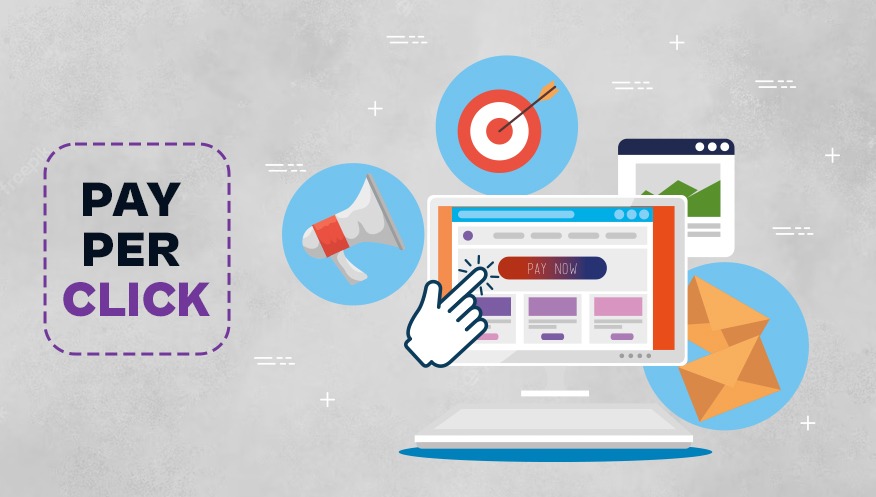 Know your goal and select the appropriate campaign for the same

Filter and pick the best of your settings in terms of audience, devices, locations, schedule, etc

Calculate all the factors and provide the right budget & bidding strategy

Enter your destination URL

Create your advertisement
Google ads are another form of paid marketing and perhaps the most popular among PPC advertising in the world. Brands that appear on Google's search engines and related branches are dealt with by the Google ads platform. Every time someone searches for a particular thing, Google starts searching for the best advertisement in the millions of options available and picks the winner to be presented in front of the user. Your advertisement must have the potential to reach that position. Also, your advertisement must have the keyword that is entered by the user. There are many pointers that have to be achieved in order for the advertisement to win in this competitive market. 
If you are planning to do Pay Per Click with Google Ads, do consider the below-mentioned points:
Know the right keyword and bid on the same to get maximum results

Landing page quality matters. Focus on that more than anything

Quality score is Google's rating of the quality of keywords, landing pages, and PPC campaigns. Maintain your quality score.

Create an enticing copy and catch maximum attention. It has to be eye-catching and unique at every level. 
Effective keyword research is a significant part. Your entire paid marketing and PPC marketing is based on the keywords you select. Do thorough keyword research and find the best PR agency in Delhi, the one that is well-versed in SEO, keyword research, and PPC marketing. 
Influencer marketing
Influencer marketing is ruling the throne of social media marketing these days. It has been the talk of the town, especially in the post-pandemic world. People did a lot of creativity during the lockdown and brands understood the importance of reaching via influencers and short videos on social media platforms. And gradually Facebook marketing and Instagram marketing caught awareness. 
It includes old and new marketing tools and is the best modern-day content-driven marketing campaign. In India, people will believe in celebrity-driven advertisement more than anything and this is the best plus point of influencer marketing. Collaborations between brands and influencers have been the best ever catalyst to spread various products and services like fire. Imagine you are following an influencer or a celebrity and they are posting a short video on their skincare routine. This video has a set of products. Won't you feel like having that product? Won't the value of that product increase? Won't you also share the video with your loved ones? That is how influencer marketing works. 
Facebook marketing and Instagram marketing if done right can impact the purchasing decision of people due to the fact that the influencer may have knowledge, position, or relationship with the product as well as the audience. There are certain types of people that follow an influencer or celebrity and this is where the target audience problem is solved for the brand. They do not have to understand their requirements or needs in life. All they have to do is shoot the right video or create the right post that can touch the audience. This is how podcasts have become more popular nowadays than ever. 
The tricky part here is that the influencer or celebrity has to be active all the time on their social media platforms in order to connect with the audience. In this case, even a small peek at your product can do the work. This is a win-win situation for them as well. People with very few followers with the right collaboration have gained millions of followers in just a few months. Brand collaborations are the new way of creating the most feasible campaigns in less time. 
The bottom line
Instagram marketing and Facebook marketing have caught the attention due to their power of limitless sharing. These platforms are worldwide and content can be shared across countries. Your product can become trending from nothing. Hashtags are the key here and again keywords play an important role in influencer marketing. PPC is effective but not without an attractive combination of content. And if you are in touch with a good PR agency, all the above-mentioned areas can be covered like butter. These agencies are proficient in managing public relations, social media marketing, and various marketing forms. It is not easy to manage the tasks on your own, there is a wide range of activities and strategies and hence hiring a PR agency is the best thing to go for.